Submit a photo!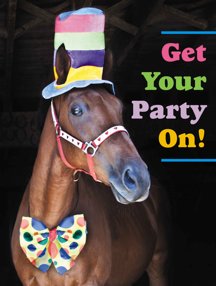 Are you a budding photographer? Or do you enjoy snapping pictures at the barn?
Is your iPhone bulging with unique and interesting photos of horses you know!
We are looking for you!
Your photos could be on a greeting card sold in tack stores across the country!
How fun is that? (I know I am tickled when I see my pictures on a card in a store!!!)
We look for funny, artistic, amateur show shots, trail or glamorous photos
of horses of all kinds to use on our greeting cards.
If your photo is chosen, we credit you, your horse, his breed, age, etc.
on the back of the card. And you receive tons of samples of the card.
Hi! I am June Evers. I have written horse books for the past 28 years. I have also created a line of horse bumper stickers 25 years ago as well as other things that you stick to a car, truck or horse trailer! And now we have a line of greeting cards and are looking for images, photos, etc.
-We love close-up photos of horse faces, horses rolling, horses wearing hats, in costume, horses making faces, mooning for the camera...you name it, we want to see it.
-But also think artistic...a close up of a whorl on a horse forehead, the ears, close up of a horse grazing, close up of horse lips...Get creative.
-Just e-mail your image to us at jevers@warwick.net and we will get back to you.
-Include your full name and your horse's name, age and breed.
-If your photo is selected, you and your horse are credited on the back of the card.
-And you will receive tons of samples and the absolute fun of seeing your cards, your horse, in print in tack and feed stores!
-If your horse is a rescue, please let us know which rescue you got your horse.
One limitation, make sure the photo is yours and not your show photographer or a professional's shot. Those are owned by them.
And we are really looking for those candid shots that are on everyone's iPhone! The ones you have shot in an instant and got something terrific!!
4-H and Pony Club: This is a terrific afternoon project for Pony Clubbers and 4-Hers.
Thank you and looking forward to your photos!!!!
`JUNE EVERS