Easy Design Tips for your Advertising
"My ad does not produce the sales it needs. It must be the publication."
The above is the most frequent response I hear from an advertiser when their ad does not produce the response they want. Most often, it's not the publication but it's the actual ad itself that's the real problem!
Here are some tips to placing your ad and getting it noticed.
1. Read the ad sizes carefully to make sure you have the correct ad size.
2. What is 4-color? 4-color means full color, not black and white. 
3. What is bleed? Bleed means you want your ad to run off the edges of the paper. There is no white around the edge of your ad. It always refers to a full page ad. You'll need to make sure all type is 1 inch from the edge on all sides. When a printer trims a publication, sometimes things slip. Important information could get cut off. It is safe to have your important material 1 inch from the edge on all sides.
4. So many colors? How do I start designing in 4-color?
The range of color will just make your head spin. Start easy. What are the colors in your logo? Use them or similar shades to your logo colors. And sometimes, less is more when you use color.
5. Oh my Lord! What typeface? Choose 2 typefaces and stick with them. Any more and the ad begins to look like a circus. And keep the typefaces as easy to read as possible.
-If you have important information try not to drop it out to small white type on a dark background. If you must, then make it a bigger font and make it bolder. That white type on a dark background is called "knocked out to white." It is generally harder to read when it is tiny white type on a dark background. Headlines are okay but small type is just hard to read.
6. Your photo is EVERYTHING! If you're going to spend money, spend it on the photographer and get an equine photographer. They really know what to look for, especially if you're shooting horses. A better image will get much more attention.
-If you have to take your own shot, take it on a sunny day and keep the background simple. Whatever you're selling; horses, products, services, should be as clear as possible and the main focus of the photo.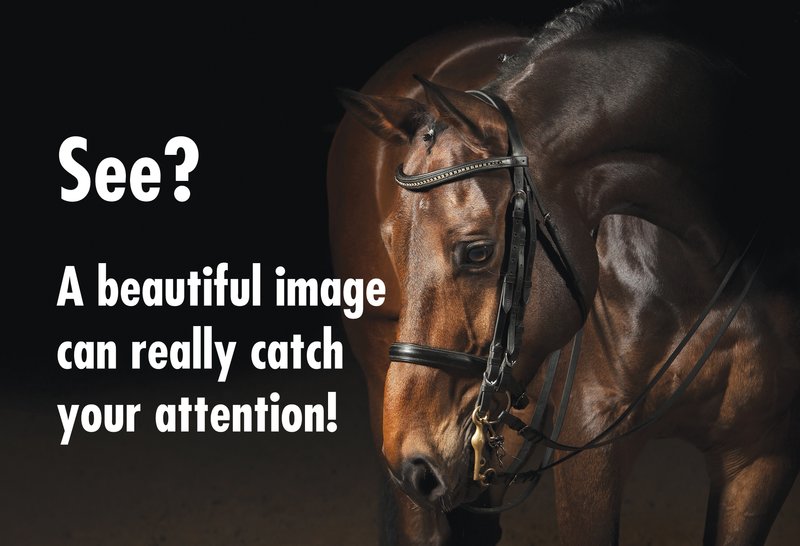 7. Writing copy is the hard part! Good headlines sell! An attention-getting headline is a sure fire way to get noticed. Your ad copy should answer these questions: who, what, where, when and how. The "how' being website, email, address and phone.
8. How do I write a headline? A headline needs to be a benefit to the person reading the ad. Ask yourself "Why would someone want to use/purchase this service/product/ horse?" and that could be the start to your headline. For example, "Why would someone want to breed to my stallion?" The answer to this question could be your headline!
9. Offer a discount if you can. "New customers: First session 10% off!" Or "Call now and get a free widgit with your order!"
10. Okay the ad is done but...something "just ain't right!" Print it out, take it to a mirror and look at it in the mirror. Looking at it backward will help you determine what is wrong. The type, color and photos suddenly become shapes. It will immediately pop out at you what is wrong. Fix it and the better your ad looks the more response you'll get.
11. You have about 3 seconds to catch the attention of someone looking at your ad. To make sure you've hit the mark, give the ad to a friend who does not know your business well. Ask them within 3 seconds of seeing the ad, what was it about? If she has no clue, then back to the drafting table. It has to get the message across in 3 seconds.
12. Lastly, run your ad at least three times. It has been studied that people need to see something three times before they act on it.
Advertising is a lot of fun when it works and gets you a response...especially if it's a HUGE response!
Thank you!
June Evers
Horse Hollow Press
845-294-0656